SK high speed laser cutter 1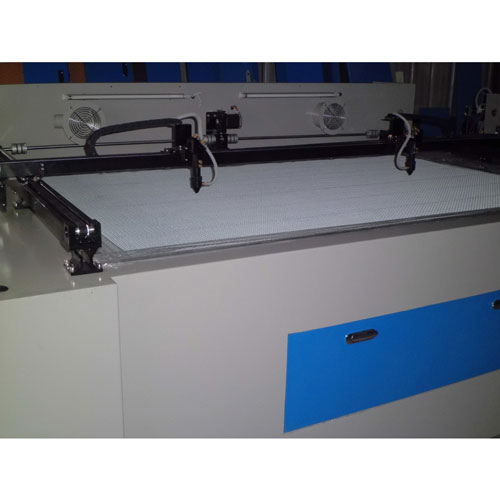 Function & characteristics
1. Processing a wide range of fabrics , edge smoothing , automatic close-in , without deformation , graphics design random by computer.
2. Embroidered patch cutting(before and after embroidered cutting), profiled trademark cutting , clothing pieces , pierced leather , garments processing ,cowboy fountain of supplies , clothing cutting and engraving on the surface , the one-time single-layer or multi-layer fabric cutting , drilling , engraved.
3. Use the laser industry's most advanced control system—RDLC320-A control system.
4. Unique intelligent predictive algorithm and improved control algorithm to ensure that processing hight speed , smooth and efficient.
5. Cutting energy automatic compensation function , cutting greatly improved results.
6. Operational speed ,laser energy real-time tunable , and very easy for customers to operate.
7. Can also store more documents to support power-fail data retention of permanent document storage area.
8. Uses the PC cable, NET cable, U disk, and other data output function, greatly facilitate the customer's actual operation.
Application
Cloth embroidery , babel , trademark cutting , clothing accessories embroidery , holing , cutting ,leather-holing ,sampling ,tooling ,organic glass , plastics ,PVC, paper , wood and bamboo cutting , wood and bamboo ,ceramics ,granite ,engraving.
Suitable material
Woodproducts,Leather,Fabric,Paper,Plexigalss,Rubber,Shellfish,Two-color–plate,Buttons ,Plank,PC,PE,ABSand other non-metsllic materials。
Technical parameter
Product Model
SK-0906
SK-1206
SK-1209
SK-1410
Working Area
900*600mm
1200*600mm
1200*900mm
1400*1000mm
dimension
1420*1100*940mm
1790*1130*990mm
1790*1420*990mm
2000*1600*1000mm
Weight
165kg
210kg
260kg
290kg
Total power
600w
700w
800W/1000w
800W/1000w
Laser Power
50W/60w
50W/60w
60W/80w
60W/80W
Electrical source power
400w
500w
500w
500w
min line width
0.05mm
0.05mm
0.05mm
0.05mm
positioning accuracy
≤±0.01mm
≤±0.01mm
≤±0.01mm
≤±0.01mm
Power Supply
AC220V±10%,50Hz
Working Temperature
0℃-40℃
Working humidity
5-95% no condensate water
Drawing Format
BMP、PLT、DST、DSB、DXF、GIF、JPGE、PCX、TGA、TIFF、CDR、and so on
Smallest Character
Chinese 2mm×2mm,English 1mm×1mm
resolution
≤2500dpi
Cutting speed
0-300mm/s according to material
Engraving speed
0-1000mm/saccording to material