SK laser engraving machine 1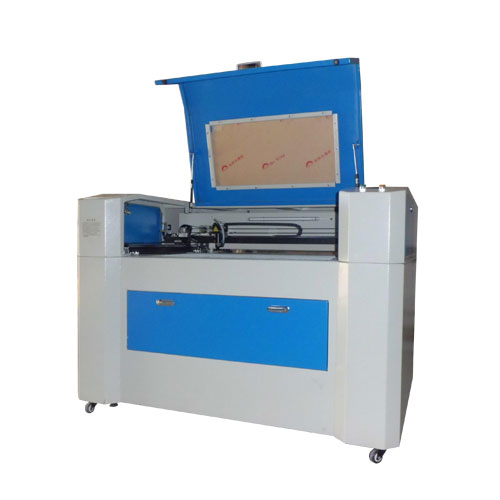 Function & characteristics
1. Adopting advanced flying optical path of laser, and an algorithm of curve forecasting, ensuring the speed and accuracy of curve operation.
2. Adopting an anti-interference design of software and hardware synchronization, CPU Pentium, industry PC motherboard, ensuring reliable performance.
3. Adopt embedded digital control, Chinese character display, a man-machine interaction, and easy operation. USB off-line system, supporting U disk transmission, which can realize a thorough off-line while processing and also can realize one computer controlling many machines.
4. Capable to process wide range of fabrics, smooth cutting edge, automatic close-in without deformation and free graphics design
5. Functions like engraving, grooving, cutting, punching can be performed on the surface of leather, fabrics and so on.
6. Working speed, laser energy is adjustable, meeting the customers'requirements to maximum.
7. Stainless steel cell table ensures it will not deform in long time working.
8. The engraving software designed by ourselves realizes dot engraving and 360 degree slop carving, opening up a new era in this field.
9. Adopting three imported linear guide rails, three-phrase driving, three-phrase driver, and imported focusing lens makes the machine run more steadily for a long time.
10. Advanced path optimization system saves processing time greatly.
11. An advanced document processing function and automatic origin restore, autocorrecting function can correct the wrong code documents in time, being compatible with many software from home and abroad. And it can transfer documents directly at the platform of CAD, CorelDraw, without changing format.
12. A super high-capacity notebook memory can store 200 documents, applying to large number of operation.
13. Double laser heads are optional.
Application
Cloth embroidery , babel , trademark cutting , clothing accessories embroidery , holing , cutting ,leather-holing ,sampling ,tooling ,organic glass , plastics ,PVC, paper , wood and bamboo cutting , wood and bamboo ,ceramics ,granite ,engraving.
Suitable material
Wood products, Leather, Fabric, Paper, Plexiglass, Rubber, Shell, Two-color plates, Ceramic, Buttons, Marble, Granite and other non-metallic materials
Technical parameter
Product Model
SK-0604
SK-0906
SK-1206
SK-1209
SK-1410
Working Area
600*400mm
900*600mm
1200*600mm
1200*900mm
1400*1000mm
dimension
1170*830*1015mm
1400*1120*900mm
1790*1130*990mm
1790*1420*990mm
2000*1600*1000mm
Weight
145kg
165kg
210kg
260kg
290kg
Total power
600w/700W
600W/700w
800W/1000w
800W/1000w
800W/1000W
Laser Power
50W/60w
50W/60w
60W/80w
60W/80w
60W/80w
Electrical source power
400w
500w
500w
500w
500w
Min line width
0.05mm
0.05mm
0.05mm
0.05mm
0.05mm
Positioning accuracy
≤±0.01mm
≤±0.01mm
≤±0.01mm
≤±0.01mm
≤±0.01mm
Power Supply
AC220V±10%,50Hz
Work Temperature
0℃-40℃
Working humidity
5-95% no condensate water
Drawing Format
BMP、PLT、DST、DSB、DXF、GIF、JPGE、PCX、TGA、TIFF、CDR
Smallest Character
Chinese 2mm×2mm,English 1mm×1mm
Resolution
≤2500dpi
Cutting speed
0-300mm/s according to material
Engraving speed
0-1000mm/s according to material